Dr. Caitlin Coberly
PhD, CDBC, Fear Free(tm) Certified
Founder and Chicken Lady Extraordinaire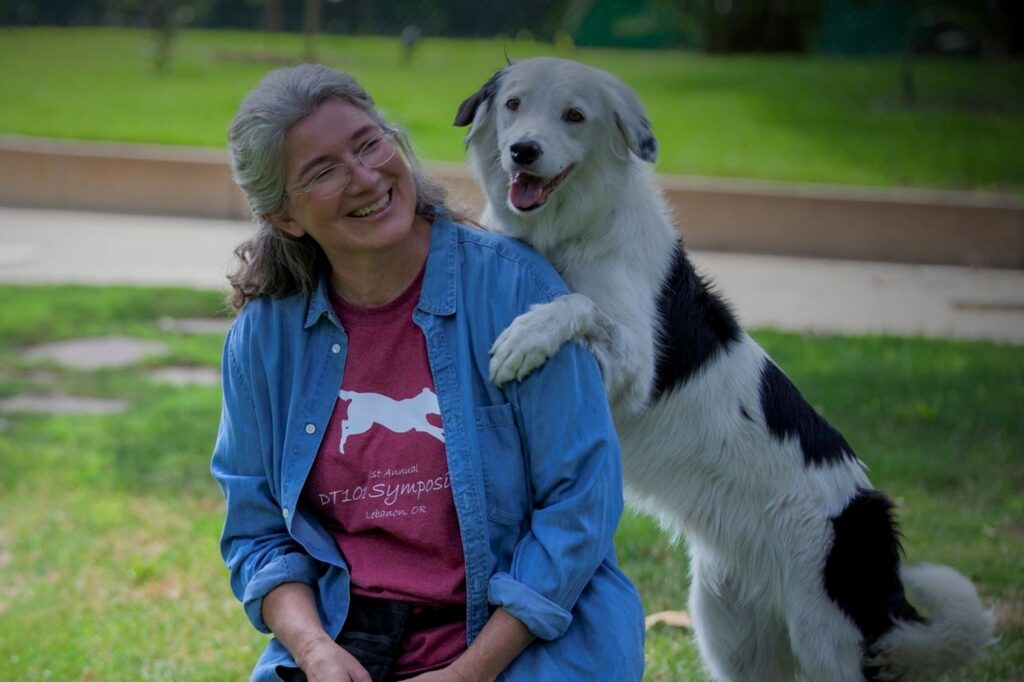 Hi there! Welcome to our staff page. I am Caitlin, the group founder and a Certified Dog Behavior Consultant with the International Association of Animal Behavior Consultants (IAABC).

So what do you want to know? Without the hype. The basics are that I have been an animal trainer, at a professional level, for over 40 yrs. I specialize in difficult behavior problems like OCD/CCD, bite-risk dogs, reactivity and aggression. I fundamentally care about getting it right–whatever that means. To me, that means making the connection between you and your dog as fun and easy as it can be. I work hard to make sure that you understand your dog, and that he understands you. I think that living with your dog should be a simple pleasure. It shouldn't be a lot of work. It shouldn't be a lot of power games. Man and dog existed–coexisted– for millennia. Your dog wants to understand you, he wants to work with you. What I do is find ways to make that happen.
Don't let all the letters fool you. While I have a ridiculous amount of education in biology, my passion is making the important information easily available to you. I taught animal behavior (from an ethological perspective) at the college level. After college, I went on to work in ecology doing environmental assessments. But what I really enjoyed was my days with my dogs, horses, and falcons. When the economy crashed in 2008, I decided to turn my part-time job into a full time passion.
This lead to a deep dive into the animal training literature, but also a burning question. Why were my animals so well behaved? Despite adopting difficult dogs, my dogs were universally sweet and even tempered, non-destructive, and friendly with strangers. I have been studying this question ever since. With thousands of hours of observations, I think I finally have the answer (see paragraph one, above).
I am proud to say that thousands of online and in-person clients have used methods to achieve their dreams of a happier, more fulfilling life with their dogs. I have also helped hundreds of professional trainers improve their skills with a holistic approach to dog training and welfare.